Brambleridge Farm was established in Brooks, Georgia in 1997 by Megan's parents, Bill and Nancy Buchanan. Megan and her sister, Meredith, grew up riding up and down the gravel roads that surrounded the farm and through the fields of neighboring farms. They competed in the hunter ring as children, but later joined the United States Pony Club, and transitioned towards eventing and dressage. Nancy enjoyed trail riding and foxhunting.
In 2002, after years of observing the need for good ponies in Pony Club, Megan and Nancy began a venture to find suitable pony mares to start a small breeding program. While they started with both Welsh and Connemara mares, over the years they transitioned to just Connemara and Thoroughbred mares. They found the Connemara crosses to be exceptional athletes, and they fell in love with the offspring of the imported Connemara stallion, *Grange Finn Sparrow. Megan acquired her first two 'Grange' babies in 2007, Sparrow's Owen & Swift Level Sparrow aka Taylor, and Sparrow's Tiptoes in 2008. Sadly, Taylor was lost in a pasture accident in early 2009. Megan focused on Owen, and they began a great partnership that would lead them to competing in many disciplines, but most notably, upper level eventing. Megan dreamed of using 'Grange' daughters to produce top eventing prospects.
The economic downturn of 2008 - 2011, led to many life changes and during that time Megan's father passed away. They relocated from their family farm, and Megan and Lee eventually purchased their own piece of property in Coweta County in 2010, thus beginning Fade to Grey Farm. Nancy followed them to Coweta County in 2015, and re-established Brambleridge Farm across the road. They have a combined 50+ acres between the two farms.
Sparrow's Tiptoes aka Tippy, became the foundation for Megan & Lee's breeding program, and they added two more 'Grange' daughters, Sassy Sister in 2011, and Sparrow's Emma in 2012. Megan began crossing these Halfbred Connemara mares with Irish Sport Horse & Thoroughbred stallions, developing a niche for producing bigger athletes that had the gallop and stamina of the Thoroughbred, but that retained the hardiness, intelligence and 'fifth leg' from the dash of pony in their pedigree. Though their program is still considered a small scale operation, they have already earned a reputation for quality young horses, and have been fortunate to get their youngstock in the hands of numerous professionals. They are looking forward to seeing those individuals out competing in coming years.
Nancy and Megan have traveled to Ireland a number of times to develop their eye and look at Connemara stock. In 2012 they brought over three purebred Connemara weanlings, including their now stallion, *TBS Declan Pondi. Declan introduced exceptional jumping lines to the United States, and has proven a great cross on their *Grange Finn Sparrow mares. They plan to continue to use Declan on their purebred and non-Connemara mares to produce top performance prospects.
In 2014, Megan approached the American Connemara Pony Society about developing a new registry for 1/4 Connemaras. In addition to gaining support from Advanced Event Rider and (now) USEA President, Carol Kozlowski, and Wayne Quarles, eventing TD and 'R' Dressage judge, Eventing Nation's timely interview of William Micklem's take on US Breeding helped bring the ACPS Board of Governors on board with the concept. From Jenni Autry's article, 'William Micklem Believes U.S. Breeding is on the Right Track' -
The quality Connemara blood available in the U.S. can also play a big part in creating the winning recipe for an upper-level event horse. "The brain and 'fifth leg' of ponies should not be underestimated. What puts people off is that it requires taking a longer term view, as it is the second or third cross that produces the performance horse," William said.

"However, if someone was brave and stood a superb stallion with exceptional performance bloodlines that was half or a quarter pony, this would accelerate the process. I would certainly use such a stallion." That's a nice vote of confidence for pony breeders out there!

In using Connemaras, William recommends that a foundation pony stallion for an event horse breeding program have excellent genetics and feet, as well as a good brain; quality paces, including the gallop; and easily be able to jump a 1.50-meter vertical.-William Micklem
William Micklem continues to be a valued advocate for the breed, as has Denny Emerson; both have a large presence on social media, and they frequently mention the suitability of the Connemara in their blog posts. In 2015 the American Connemara Pony Society established the Connemara Sport Horse registry, allowing 1/4 Connemaras with one registered Half-Connemara parent to be recognized for their Connemara lineage. There are now over 25 individuals in the registry, and the name is gaining recognition in the sport horse world.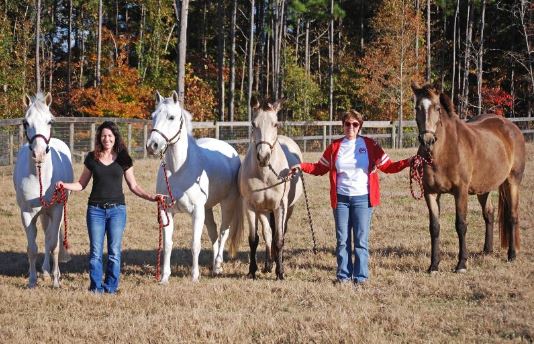 Our Connemara Halfbreds by *Grange Finn Sparrow; Sparrow's Owen, Sparrow's Emma, Sassy Sister & Sparrow's Tiptoes.
*Grange Finn Sparrow was born in 1975 at Grange Stud in Bunclody, Ireland. Bred by Lady Maria Levigne, 'Finn' as he was originally known, was by the stallion, Coosheen Finn and out Dun Sparrow. He won Clifden as a young stallion, and was sold to Willie Leahy as a performance pony and breeding stallion. Willie's children competed the pony in the jumpers and hunted him. 'Grange' (then known as Finn) also spent a short stint in Austria where he left his mark on the fledgling society there.
In 1985 Willie shipped Grange to Harry DeLeyer in the USA. Grange jumped on the circuit in the states, competing in both the jumper and hunter rings, and doing a bit of foxhunting too. He eventually made his way to Jennifer 'Tootie' Jones in West Virginia where he lived the last 15+ years of his life. Tootie did an exceptional job finding superior performance mares to breed to Grange, and she certainly made her mark on sport horse breeding on the East Coast. Two of his offspring made it to the 4* level, contesting Rolex Kentucky, and many, many more competed at the upper levels. Seven offspring, both purebred and halfbred Connemaras, made it to the Advanced level. He has sired individuals that competed in upper level dressage, one of whom was in Lendon Gray's Dressage 4 Kids program; top jumpers, Pony Finals contenders, foxhunters and even a son that competed on Allison Stroud's famous four-in-hand driving team.
He lived to the ripe old age of 35, and was buried in the hills of WV.